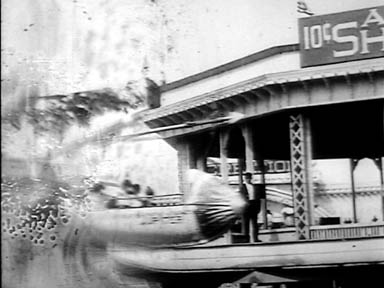 There is an iron law of professional physics: for every talk you give, there is some sort of proceedings (be it conference, workshop, meeting) to write. Thus, I've been having lots of trouble blogging, since all of my writing mojo has been used up by the end of each and every working day. And yet, it's a new year, the LHC is looming, my serial deadlines have almost run their course, and there are interesting new things popping up daily.
The last few days have been a brief respite from work, work-related travel, and family-related holiday travel (Woodstock, Vermont, Chicago, etc.) K and I decided to take our lives back for a day and remind ourselves about all the outrageously interesting things one can do in NYC, given one has time to take a deep breath and look around.
So just in one day we: 1) zipped through the Chelsea galleries (this despite Jed Perl's
with
ering assessment
of the current scene in the New Republic, subscription required though...), seeing neat stuff by Kim Keever at
Kinz, Tillou +
Feigen
,
Adi Nes' photog
raphs
portraying biblical scenes at Jack Shainman, and
Marc Newson
at Gagosian,
2) headed down to the
Angel Orensanz Center
on Norfolk to see Bill Morrison and Michael Gordon's "
Decasia
" live with at
least 6 screens (does the decaying altar count as a "screen"?) and 55 musicians tucked into the balconies playing seemingly-asynchronous punctuated polyrhythms, all in the service of a beautiful montage of decaying vintage film stock (David Bowie was there too, seated about 10 feet from us. Dude.) and 3) grabbed dinner at
Momofuku Ssam Bar
on 2nd and 13th (the burrito -- ssam -- was fine but nothing special, but the urchin was tasty and the grilled mackerel stellar, as were the rice-coated ice cream balls). Not a bad day at all.